Trump Supporters
Brian Laundrie: 5 ALTERNATIVE (and Bizarre) Theories
FACT-CHECK GUARANTEE (References): [Straight from the source: 3 sources] [Government website: 1 source]
30 September 2021 | By Richard Ahern – When "Van Life" vlogger Gabby Petito was reported missing on September 11, 2021, fingers were quickly pointed at her fiancé Brian Laundrie, who had returned home without her.
Subsequently, after Laundrie returned home, he then disappeared with his parents saying they hadn't seen him for a number of days, this was around September 18th. At this point, Laundrie had been named a person of interest in Petito's disappearance.
Tragic news…
On September 19th, an FBI statement said that remains were found near Grand Teton National Park in Wyoming, near where the couple's van had been last spotted. A coroner confirmed the remains found were Gabby Petito, cause of death ruled as a homicide.
An arrest warrant was issued for Brian Laundrie for the unauthorized use of a debit card during the time Petito went missing. As far as the homicide, he is only named a person of interest.
Although a majority of people seem to be convinced that Brian Laundrie is responsible and has gone on the run, users on sites like Reddit and Facebook have other theories.
Here are some of the more interesting theories to wrap your brain around:
1) Brian is being criminalized because he is bald
One user on Reddit posted in the subreddit titled r/FriendsofBrian, that Brian is being presumed guilty because he is bald. The user said that "follicle privilege is a real problem" and bald men aren't given the same "presumption of innocence as the hair-privileged".
He went on to say that the prejudice against bald men is a systemic issue and his "heart bleeds for Brian" because he is Brian, as are all bald men. Personally, he claims that people assume he is going to hit his wife because he is resentful of being bald.
The user made an interesting comparison saying that if a "follicle-endowed" man had been caught red-handed at a crime scene, people would make excuses for him by saying "Look how pretty his hair is".
He ended his rather long-winded post saying that "Bald men are peaceful"!
The full post is pictured below.
Other users seemed intent on focussing on Brian's appearance as to why he's being presumed as guilty, "One has to wonder if there is body shaming at play here", the post read.
2) Brian Laundrie was framed by Biden
One Facebook user, who posted to the Facebook group "Justice For Brian Laundrie" said that the "entire thing was a government cover-up to distract from Biden's Afghanistan mistakes as the Taliban flaunt their new American weapons and the southern border turns into a s**t show".
The user went on to say that Brian will not reappear until it is "timely for us to need further distraction".
They made it clear that they believe "Brian is innocent" and that "Gabby had issues".
The user's Facebook posts are pictured below.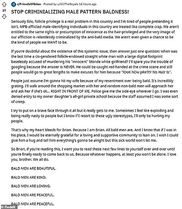 3) Brian was the real victim
One of the more grounded theories was that Brian was the innocent party and that "he was a victim of physical violence at the hands of Gabby".
"The violence he experienced was so bad that he had to call the police for help in one instance", they explained.
This was based on some truth as the couple was stopped by the police on August 12 for disorderly conduct when someone called 911 when they saw the couple fighting. However, the witness said that it was Brian who had struck Gabby.
That's just part of the story…
Bodycam footage that emerged from that day showed that police were close to arresting Gabby for domestic violence. The footage showed Brian showing cops scratches she gave him and Gabby admitting that she was the aggressor.
Police decided not to arrest her when they asked if she intended to cause him harm, to which she replied "No".
The police at the scene believed that Brian was the victim, they even booked him a hotel room to spend the night away from Gabby.
It's unclear if the police had all the information concerning the 911 call.
4) Brian was in witness protection
Some internet sleuths were sharing photos of what they believed to be Brian at a climate protest in Germany. Others said he was hiding in Mexico.
An interesting theory appeared claiming that Brian was moved to these locations as part of federal witness protection and his disappearance was purposely staged to protect him.
One Reddit user posted that "Brian Laundrie is an American hero who testified to the FBI about years of abuse by Gabby and her transphobic father. The feds are not actively looking for Brian. This is all part of a carefully orchestrated plan to protect Brian from further attacks while the FBI build their case".
Despite being a very bizarre theory, we'll continue to keep an open mind!
5) Brian is on a revenge mission to track down the real killer
Another theory claimed that Brian was on a revenge mission and was attempting to track down Gabby's real killer.
Police and FBI obtained a search warrant for Brian's home, where he lived with his parents and Gabby.
Footage showed authorities storming the house searching for evidence, they obtained hard drives and towed away his silver Ford mustang.
So far it appears that little evidence has been found that implicates Brian Laundrie in the homicide considering he is still named as simply a person of interest.
The Search for Brian has come up empty
The Laundrie family said that the last time they heard from Brian was when he went for a hike in the Carlton Reserve in Sarasota County. Authorities have extensively searched the reserve, but there has been no sign of Brian.
A rancher familiar with the area believes that Laundrie would not have survived long in the reserve as a majority of the area is alligator-infested water.
It's also been reported that Duan "Dog the Bounty Hunter" Chapman has joined the search for Laundrie. Footage showed him knocking on the door of the Laundrie residence, no one answered and the mother of Brian Laundrie called the police.
Chapman reports that thousands of leads have poured in from his fans and he claims to have found the campsite where Brian was staying after he returned home alone from his cross-country trip with Gabby.
Recent Development:
Some online investigators believe that the last two Instagram posts from Gabby were not from her because the photos were weeks old and didn't have the usual location tag she always used. This could alter the timline of when Gabby was killed.
In a recent press conference, Gabby Petito's family urged Brian Laundrie to turn himself in and help with the investigation.
So far, no sign of Brian Laundrie and what happened to Gabby Petito remains an elusive mystery.
We need YOUR help! We bring you the uncensored news for FREE, but we can only do this thanks to the support of loyal readers just like YOU! If you believe in free speech and enjoy real news, please consider supporting our mission by becoming a patron or by making a one-off donation here.
This article is only possible thanks to our sponsors and patrons!BACK TO US NEWS
Politics


The latest uncensored news and conservative opinions in US, UK and global politicsGET THE LATEST
Business


Real and uncensored business news from around the worldGET THE LATEST
Finance
Alternative financial news with uncensored facts and unbiased opinionsGET THE LATEST
LIFELINE MEDIA FACEBOOK
US NEWSUK NEWSWORLD NEWSSUBSCRIBEJOIN
JOIN THE MOVEMENT ON SOCIAL MEDIA…
$5 a month
https://www.paypal.com/cgi-bin/webscr?cmd=_xclick&business=saralee1754%40gmail%2ecom&lc=US&item_name=Member&amount=5%2e00&currency_code=USD&button_subtype=services&no_note=0&bn=PP%2dBuyNowBF%3abtn_buynowCC_LG%2egif%3aNonHostedGuest